Music Scholarship Application Deadline Extended
Applications for the Dr. Whitmer Firor Music Scholarship are currently open.
Music students are invited to apply before the extended deadline of August 31. This scholarship is valued at $2,797.87 for 2020.
The Dr. Whitmer Firor Music Scholarship marked its 25th anniversary in 2020. Over the years the fund has granted in excess of $50,000 to talented music students. Established in memory of Professor of Medicine (Cardiology) Dr. Whitmer Firor, the scholarship is "used to support advanced study for particularly talented students who intend to pursue a career in music."
To apply visit Saskatoon Community Foundation Student Awards
Past recipients of the Firor Scholarship include jazz pianist Chad Linsley and freelance musician Sara Spigott.
Chad Linsley moved to Montreal in 1998 where he played, toured, and recorded with the McGill Jazz Orchestra. He traveled to China with Juno Award-winning drummer Jim Hillman and bassist Brian Hurley, performed at the Montreal International Jazz Festival, and was nominated for the General Motors Grand Jazz Award and the CBC Galaxie Rising Star Award for his debut album of original compositions entitled Slideshow.
Chad's recent work as an educator has earned him a teaching award from McGill's Schulich School of Music and he has been a course lecturer at Brandon University. Based in Montreal, he is a sought after soloist, sideman, arranger and studio accompanist for Juno award-winning singer Ranee Lee.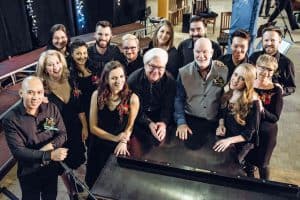 The Suburban, OBohemian.ca
Photo: Lyric Theatre Singers
Related Articles