Tori Slade Tribute Creates Musical Space for Children and Youth of All Abilities
Brenda Baker's passion and career had always been music and performance, but it was when her firstborn daughter was a few months old that she realized her true calling.
Today, she pours her energy into Kids of Note and the Notations, non-auditioned integrated choirs for children, youth, and young adults. The choirs' integrated model is unique, creating space for choristers with and without disabilities to make music together. The choirs were founded for and inspired by the children who had nowhere else to put on concerts for large audiences.
Brenda and husband Art Slade welcomed their first child, Tori Lorranne Slade, in 2003. At her birth, they learned she had Down Syndrome, despite earlier assurances their pregnancy was typical.
"We loved her as soon as we saw her; it was immediate," says Art. But he acknowledges his and Brenda's mingled emotions of celebration and grief as they set aside what they had imagined for their baby's life and began to reimagine what lay ahead for her.
Brenda recalls the weeks that followed Tori's birth, as she persisted in learning from nurses how to breastfeed her low-toned child, and eventually left the hospital.
But Tori stopped hitting developmental milestones like rolling over and sitting up, and a diagnosis of epilepsy was made. As she approached age five, she continued to need feeding and lots of care. Although she didn't have any language, she would laugh. And what she loved most was music.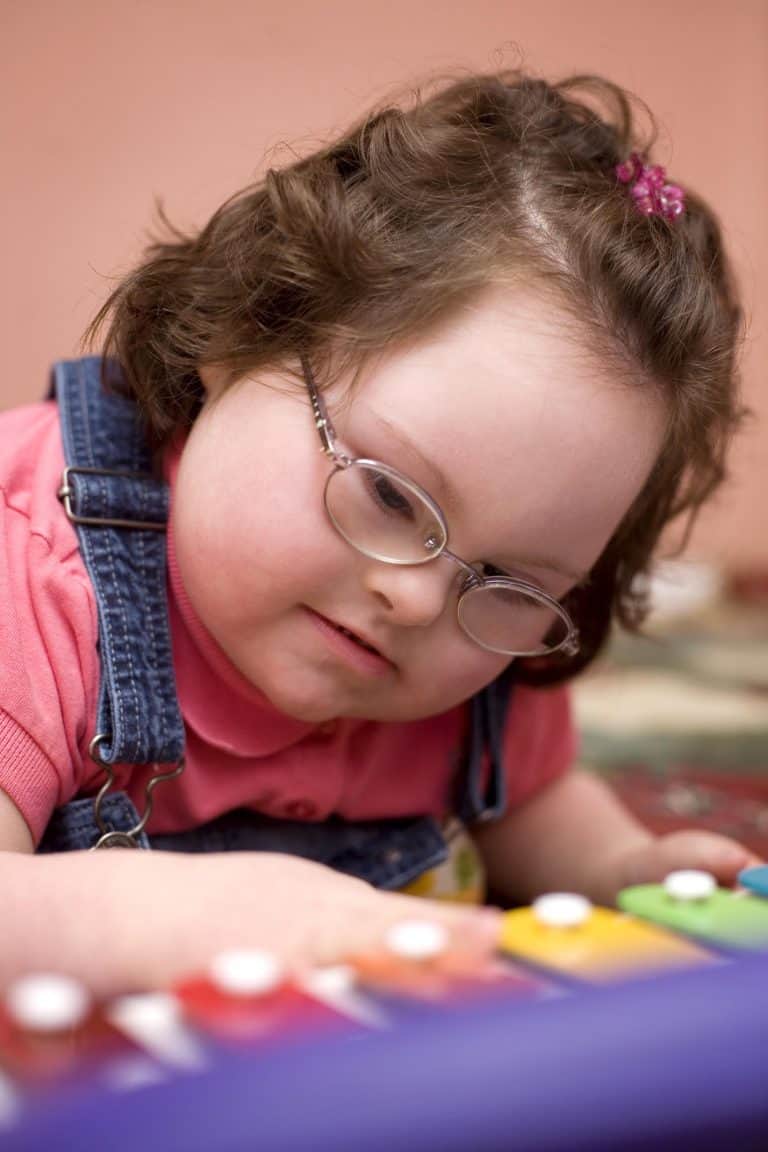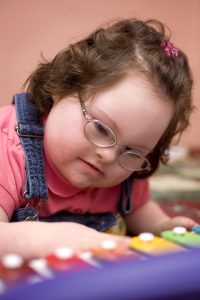 "We both sang to her and played interactive games and she chuckled. She had a little plastic toy piano with eight rainbow keys and could go for about two hours playing it. She would lie on her tummy and get up on her elbows and play and sing and laugh," Brenda remembers.
From the beginning, the Slade-Baker family was embraced by the disability community as their own. "You're just hugged by the community," says Brenda. "They knew we'd be ok."
After Tori's birth, Brenda connected with Dee Cole, who had a school age child with Down syndrome. She visited the Coles' home and met seven-year-old Ali, who was homeschooled and loved to sing. But Ali didn't have a place to sing. She was unable to fit into recreational choirs because she tired easily and her vocalization was heard as being different.
It was powerful motivation to dream big. In September 2005, Kids of Note was founded, with Brenda leading and Grosvenor Park United Church providing the space, as well as their pianist. Within a couple of years 25 children, including Ali, were putting on popular shows. In 2009 Brenda's sister, Diane Phillips, would add her talents with her background in piano and choral music to start The Notations. This meant those choristers who aged out of Kids of Note would have somewhere to continue performing. In both choirs, maintaining appropriate peer groups was important.
For Brenda and Art, giving children of all abilities an opportunity to experience music is vital: "(The choir exists) so someone like Tori can enjoy Kids of Note. I just know she would have loved it. We would have given her a solo on her piano."
But after only five short years of life, Tori passed away in 2008 after a leukemia diagnosis and treatment.
Heartbroken, Brenda and Art wanted to do something in Tori's memory in a way that would spread joy and kindness. In establishing the Tori Slade Fund at the Saskatoon Community Foundation, they hit on a fitting tribute reflecting who Tori was and her rapturous experience of music. The memorial fund would help sustain Saskatoon's integrated choirs for other children like her. At the same time, they hoped it would set a precedent for other families who might want to memorialize a loved one who also happened to have a disability.
Brenda recognizes the great community needs and the role of philanthropic giving: "There are so many needs…this fund allows a wider variety of people to be engaged in philanthropy. You don't have to have a huge amount of money. You can make a change that feels very direct and personal.
"With Tori's fund it is yet another way we feel her presence in our lives."
Reliable funding for Kids of Note and the Notations enables the choirs to hire concert musicians and keep fees affordable. "This means we can put on more impressive concerts and register choristers from all walks of life," notes Brenda. Through public performances all participants experience benefits like developing their talents, gaining confidence, and having a crowd applaud and support them. And all choristers benefit in different ways from the unique experience of belonging to a group where disabilities are "normalized."
Like the Special Olympics, Kids of Note enables the dreams of children and youth to become possibilities. Brenda and Art want to see the choirs established in Saskatoon's arts scene for decades to come. A lasting change in perceptions of people with disabilities is the goal.
In Brenda's words, "For a long time I've felt that this is what my life was leading to, what I was preparing for through all my other arts experiences. And many volunteers feel similarly about their involvement in the choirs. The Saskatoon Community Foundation's support in providing this funding opportunity is really helping all of us to do something great for our city and our young people."
---
Photos: Karee Davidson. Story: Joy-Ann Allin
Related Articles