Bill Peterson and Paul Lavoie Get the Best Mileage for Giving Back
For Bill Peterson and Paul Lavoie, charitable giving in support of community needs all began with their Saskatchewan roots and business networks.
Bill remembers the formidable Cliff Wright as a spokesperson who spoke powerfully about investing with the Saskatoon Community Foundation in support of local charitable work: "I was inspired by Cliff Wright. He has always been big on the obligation to support what's close by. If you have been successful, you give back to the community that made you successful."
By their own account, Bill and Paul have been living quiet, uneventful lives in retirement, in their home on an acreage in North Saanich for the last six years. Paul, who grew up in Prince Albert, retired from a career with Canadian Tire in Saskatoon, and Bill retired as senior partner with the Saskatoon marketing agency Creative Fire. They are parents to two not-so-mellow rescue dogs and four outdoor cats, and have given up their boat in favour of backyard living.
"We like animals better than most people," Paul laughs, "In lots of places animal issues can be political or complex." And so they choose to throw their considerable charitable support behind causes others might not think of as important. They want to see animal welfare agencies in Saskatoon enjoying greater capacity, upgrading their facilities, doing things that are tangible. Their strategic giving to organizations like the SPCA and New Hope Dog Rescue prioritize sustainability: "Imagine how difficult it is for some of those little places to keep going."
Their Saskatoon visits have not happened recently because of the COVID pandemic and restrictions on travel.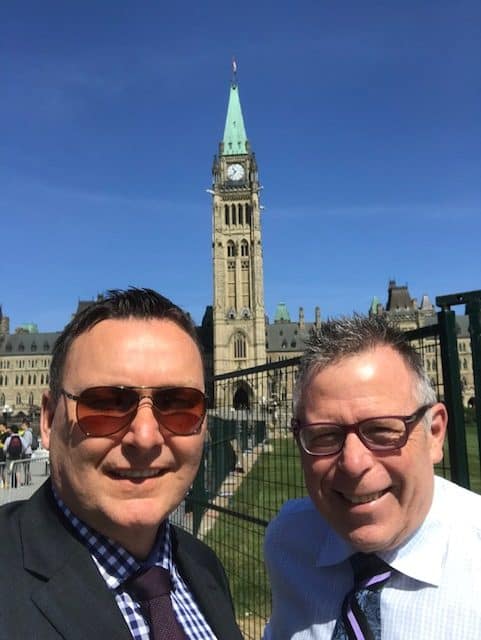 Bill's journey with Parkinson's disease and medical treatment began with Drs. Rajput in Saskatoon before he transferred to the UBC Movement Centre for what he describes as an "oil change." Following his recent Deep Brain Stimulation (DBS) surgery, friends and family have remarked on the noticeable improvement in his health, and the Parkinson's medication is regulated better. "They have cut the meds more than in half, and may cut back again. There are less side effects."
Paul acknowledges the demands of caregiving for a spouse with the disease: "The damn thing about Parkinson's is that you have to be with him the whole time because he might freeze up." As a result, they are home bound much of the time.
Their hope for their charitable fund is good results for future Parkinson's patients.
Bill's and Paul's hope for their charitable fund benefiting Parkinson's treatment is good results for future Parkinson's patients. "I had always thought if I ever get really sick, I'm going to the Mayo Clinic. But it turns out the North American experts are right here (in Saskatoon). So we did actually support that kind of expertise, to build the broader brain program. The only way that's going to get built is with a few donated dollars.
"I hope that people who get diagnosed, they don't have to go blindly…when they find out. Doctors will have a better way to tell people what they are up against. They may not be able to travel for treatment, so the more local you give, the more local treatment and services can be provided in your community."
Investing with the Saskatoon Community Foundation to build charitable funds for animal welfare and Parkinson's treatments made sense for Bill and Paul, providing them with reliable service and expertise in charitable giving.
"We appreciate the values of Saskatoon (Community) Foundation, the responsible governance and stewardship. For accountability and transparency, the Saskatoon Foundation treats you like a shareholder. You get various annual and fund reports, you get respect, and your donation stays local. You see where your money is going," said Bill.
As Bill and Paul began estate planning with financial and legal professionals, they decided to use the foundation as a reliable vehicle but didn't want to deal with details. "This is one way of stripping away the complexity and just saying…you guys at the foundation are experts in charitable giving. Here are the broad sectors we want to support. We leave the details to you," explained Bill.
"Where do you get the best mileage? I'm saying with the foundation."
Related Articles